About David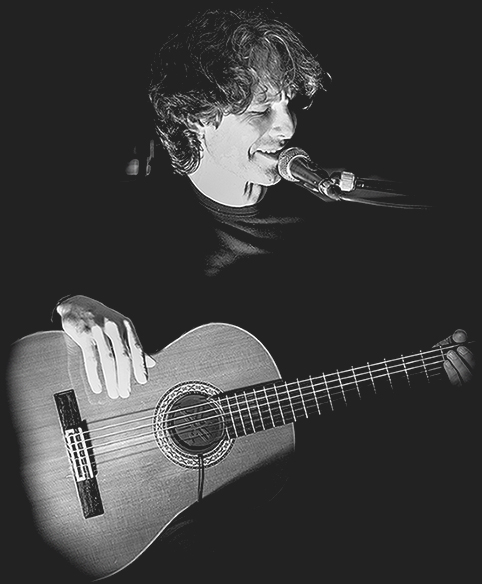 1969

Born David Vaughan Roberts, son of an architect and an artist.

1983 - 1988

Studied Trumpet, Piano and Composition at the Royal College of Music Junior Department.

1989

Left the University of York to pursue a career in music.

1990

Moved to Italy to work initially as an in-house jingles composer, then later as a jazz trumpeter and tutor. Performances with major jazz musicians in the Veneto region and nationally with rock and roll singer Ricky Gianco.

1992

Returned to the UK to establish a music career in London.

1994

Joined, as a keyboard-player, the jazz-rock fusion band Meander, led by Matt Börgmann on guitar and featuring Ingrid Laubrock on saxophone and Davide Mantovani on bass. Performances abroad in France and Luxembourg and in London jazz venues, notably The Vortex.

1996

Joined the Big Hot Orange Band as a trumpeter and founder member (later to be known simply as the Hot Orange Band). The band was set up by saxophonist Mike Parlett and led at the time by trombonist Richard Pywell. Performances in major London jazz venues, notably The Jazz Café.

1997

Set up the David Vaughan Trio with drummer Sam Brown and bassist Mike Stock performing original jazz-influenced pop/rock songs in venues such as the famous Bull's Head jazz venue in Barnes, London.

1999

Moved to Italy for a period of re-appraisal and musical experimentation whilst working as an English language teacher and Italian-English translator and interpreter. On the advice of Real World Studios sound engineer Marco Migliari, a period of vocal development and writing begins in a melodic rock style.

2004

Returned to the UK on the back of a demo project recorded in Italy and mixed at Peter Gabriel's Real World Studios by Marco Migliari.

2005 - 2010

Created and led a band as a solo artist and writer to perform new repertoire of melodic rock songs. Collaboration with Italian guitarist Mauro Paderni remains a constant with the drum chair taken initially by Olivier Aslan and then by Pete Robbins, and the bass chair taken firstly by Sasha Titov and then by Alex Lofoco. Performances in London rock venues such as The Purple Turtle, The Comedy, The Grey Horse, and The Half Moon.

2010

Initial development of 'chanson' repertoire for trio setting.

2012

First public performance of new repertoire at The Bull's Head in Barnes together with Romano Viazzani on accordion and Daniel Broncano on clarinet.

2013

Debut performances at the Pizza Express venue, The Pheasantry, and at Oliver's Jazz Bar with Romano Viazzani on accordion and Daniel Broncano on clarinet.

2014

Debut Ensemble performance at The Bull's Head in Barnes with Tom Hewins on double bass and tuba and Juanma Nieto on drums joining Romano Viazzani on accordion and Rocio Bolanos on clarinet.

2015

Release of the debut album We're On A Holiday. Mike Arbuckle gives the album a 4-star review on Kind of Jazz.

2017

Launch of synth pop duo Ten Centurions with the release of a 5-song EP. Immediate interest from Rusty Egan who gives airplay to the EP on his radio show, The Electronic Family Tree.

2019

Debut appearance at Pizza Express Holborn to promote Rusty Egan's remix of the Ten Centurions song My Final Stitch in Time. Launch of solo tribute to Scott Walker following his untimely death in March 2019 with first performance at MAP Studio Cafe.
+
-
At a certain point in a musician's development the threads of their musical clothing become so intertwined with the fabric of their soul that the garment simply won't come off any more. This certainly happened to me. I was endeavouring to study Sociology at the time, at the University of York, but my mind was in turmoil and my hours mostly spent writing songs and improvising at the piano. I dumped my Sociology degree the following year, and set my heart on walking the uncharted road of the 'singer-songwriter', a decision I have stayed true to ever since, as much as it has tormented me. I even had a new name for myself having favoured my middle name over my surname, Roberts. To some disdain, and a little encouragement, I left my university mates to begin a braver but far more arduous journey, and resolved to call myself David Vaughan.
Songs have always come easily to me, as has the ability to invent and improvise. Forcing that creative spirit into the formulation of a definite style and a successful live act has come much harder, however. It would appear that my voice and vocal style has had to be carved out of a very unyielding stone, and the resulting edifice, crafted as personally as I have known how, rarely sits well in conventional popular music. As such, I have sought out more unlikely musical paths finding myself most at home firstly at the more electronic end of rock, and secondly, and more recently, in the eclectic and nostalgic timbres of what can loosely be termed 'chanson'. The trio and ensemble versions of this latest project represent a return to the dramatic zeal and vibrant simplicities of mid-20th century continental popular music espoused by the likes of Jacques Brel. Nonetheless, my background in more contemporary music still holds strong and elements of classical, jazz and folk-based forms can easily be heard. Our performances are also a welcome platform for my work as a pianist, trumpeter and guitarist – the three instruments that I have held dear since childhood.