About David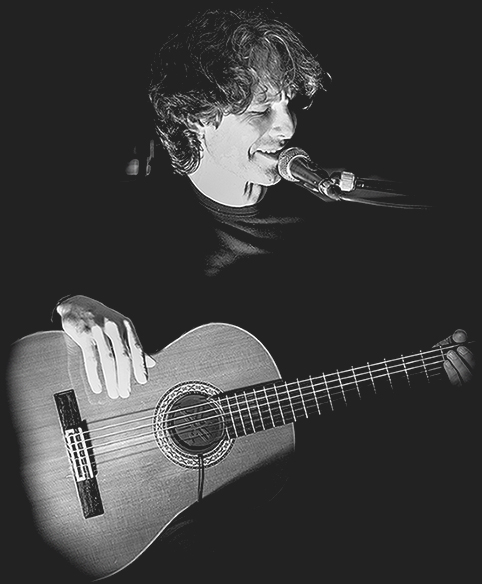 1969

Born David Vaughan Roberts, son of an architect and an artist.

1983 - 1988

Studied Trumpet, Piano and Composition at the Royal College of Music Junior Department.

1989

Left the University of York to pursue a career in music.

1990

Moved to Italy to work initially as an in-house jingles composer, then later as a jazz trumpeter and tutor. Performances with major jazz musicians in the Veneto region and nationally with rock and roll singer Ricky Gianco.

1992

Returned to the UK to establish a music career in London.

1994

Joined, as a keyboard-player, the jazz-rock fusion band Meander, led by Matt Börgmann on guitar and featuring Ingrid Laubrock on saxophone and Davide Mantovani on bass. Performances abroad in France and Luxembourg and in London jazz venues, notably The Vortex.

1996

Joined the Big Hot Orange Band as a trumpeter and founder member (later to be known simply as the Hot Orange Band). The band was set up by saxophonist Mike Parlett and led at the time by trombonist Richard Pywell. Performances in major London jazz venues, notably The Jazz Café.

1997

Set up the David Vaughan Trio with drummer Sam Brown and bassist Mike Stock performing original jazz-influenced pop/rock songs in venues such as the famous Bull's Head jazz venue in Barnes, London.

1999

Moved to Italy for a period of re-appraisal and musical experimentation whilst working as an English language teacher and Italian-English translator and interpreter. On the advice of Real World Studios sound engineer Marco Migliari, a period of vocal development and writing begins in a melodic rock style.

2004

Returned to the UK on the back of a demo project recorded in Italy and mixed at Peter Gabriel's Real World Studios by Marco Migliari.

2005 - 2010

Created and led a band as a solo artist and writer to perform new repertoire of melodic rock songs. Collaboration with Italian guitarist Mauro Paderni remains a constant with the drum chair taken initially by Olivier Aslan and then by Pete Robbins, and the bass chair taken firstly by Sasha Titov and then by Alex Lofoco. Performances in London rock venues such as The Purple Turtle, The Comedy, The Grey Horse, and The Half Moon.

2010

Initial development of 'chanson' repertoire for trio setting.

2012

First public performance of new repertoire at The Bull's Head in Barnes together with Romano Viazzani on accordion and Daniel Broncano on clarinet.

2013

Debut performances at the Pizza Express venue, The Pheasantry, and at Oliver's Jazz Bar with Romano Viazzani on accordion and Daniel Broncano on clarinet.

2014

Debut Ensemble performance at The Bull's Head in Barnes with Tom Hewins on double bass and tuba and Juanma Nieto on drums joining Romano Viazzani on accordion and Rocio Bolanos on clarinet.

2015

Release of the debut album We're On A Holiday.
+
-
At a certain point in a musician's development the threads of their musical clothing become so intertwined with the fabric of their soul that the garment simply won't come off any more. This certainly happened to me. I was endeavouring to study Sociology at the time, at the University of York, but my mind was in turmoil and my hours mostly spent writing songs and improvising at the piano. I dumped my Sociology degree the following year, and set my heart on walking the uncharted road of the 'singer-songwriter', a decision I have stayed true to ever since, as much as it has tormented me. I even had a new name for myself having favoured my middle name over my surname, Roberts. To some disdain, and a little encouragement, I left my university mates to begin a braver but far more arduous journey, and resolved to call myself David Vaughan.
Songs have always come easily to me, as has the ability to invent and improvise. Forcing that creative spirit into the formulation of a definite style and a successful live act has come much harder, however. It would appear that my voice and vocal style has had to be carved out of a very unyielding stone, and the resulting edifice, crafted as personally as I have known how, rarely sits well in conventional popular music. As such, I have sought out more unlikely musical paths finding myself most at home firstly at the more electronic end of rock, and secondly, and more recently, in the eclectic and nostalgic timbres of what can loosely be termed 'chanson'. The trio and ensemble versions of this latest project represent a return to the dramatic zeal and vibrant simplicities of mid-20th century continental popular music espoused by the likes of Jacques Brel. Nonetheless, my background in more contemporary music still holds strong and elements of classical, jazz and folk-based forms can easily be heard. Our performances are also a welcome platform for my work as a pianist, trumpeter and guitarist – the three instruments that I have held dear since childhood.
About The Trio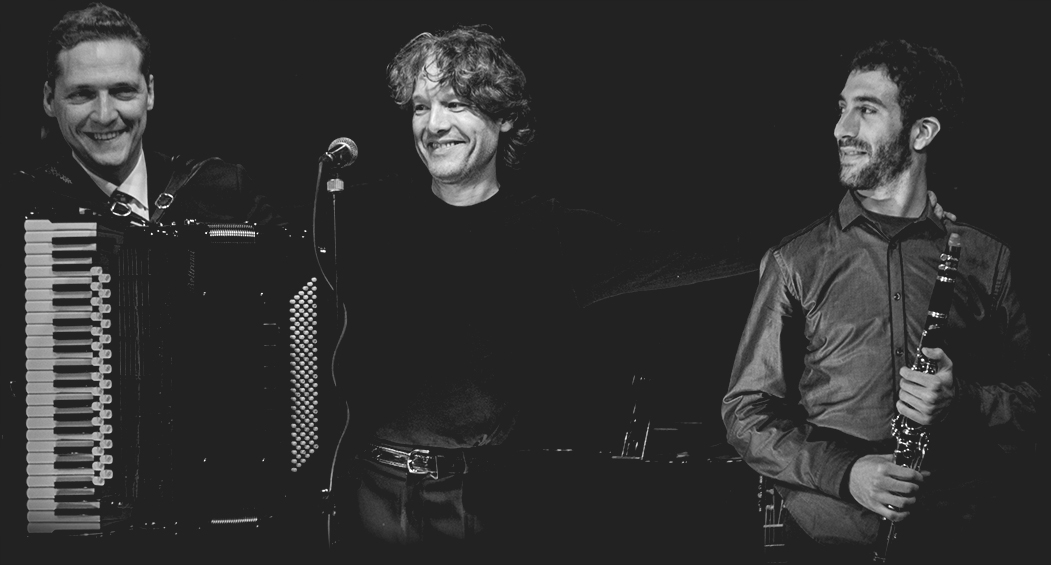 Cautious beginnings
Although the trio was formed in the autumn of 2011, the actual project had already been in a development stage for almost two years. The initial spark came from a song idea originally intended for a rock setting that clearly wanted a different approach. I had always dreamt of writing something akin to the great 'chansons' of 50's and 60's continental Europe, and it seemed like I was doing just that. As it happens, I eventually rejected that actual song idea (a common occurrence in the writing process), but it gave me enough confidence to try again, and again, and again… until I was finally writing songs that were strong, memorable and most importantly, right for my voice.
Finding the talent
Having decided on the unusual combination of accordion and clarinet as accompanying instruments, I set about trying to find people of the right calibre to perform with. I was confident about the quality of my work, but knew I had little to offer other than the promise of eventual success. The response blew me away! After two separate rounds of Internet searching, cold calling, emailing and auditioning, I had gathered interest from numerous top notch professionals, and found myself spoilt for choice - but I knew exactly who I wanted to work with: Romano Viazzani on accordion and Daniel Broncano on clarinet. It couldn't have been otherwise.
Something new, something old
It is surprising how many people who have heard the trio are struck by how well the instruments blend to make a sound that so few are used to. To me it was always obvious. The piano, accordion and clarinet are like diplomats from different but allied nations. As one is percussive the other can be bright, the other mellow. As one is rich the other can be thin, the other airy. There is so much to work with, so much character and colour in the sound. And, importantly, that sound serves the dark, robust tonality of my voice in a seemingly perfect match. Add to this a determined effort to make creative use of the rhythms and melodic phrasing of mid-20th century European popular song – waltzes, tangos, ballads, marches – and the result is something both old and new, and above all, something profoundly satisfying.
Daniel Broncano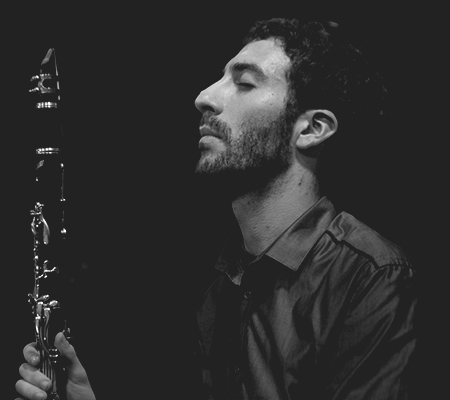 Acclaimed for his "dazzling virtuosity" and "inventive playing", Spanish clarinettist Daniel Broncano is rapidly emerging as an excit- ing young soloist and recitalist. He has recently been the recipient of numerous awards and prizes: Making Music Award for Young Concert Artists (2011), the Madrid Youth Orchestra Soloists' Competition, the Clarinet and Saxophone Society Competition (2010), and the Trinity Soloists' Competition (2010) amongst others. Daniel's recent performances as a soloist include concertos by Nielsen, Weber and Mozart. He has also recorded the Copland Clarinet Concerto for BBC3 and has appeared as a soloist at the Aberystwyth Music Festival 2011 with the Orion Symphony Orchestra performing Spohr's 4th Clarinet Concerto. His wide recital experience has been shaped together with the German pianist Johannes Mnich. The Broncano/Mnich Duo has performed extensively in the UK, Spain and Germany. Daniel was born in Madrid in 1986 and studied there with Justo Sanz and in Paris with Nicolas Baldeyrou. He has recently finished both a Masters' Course at Trinity Laban Conservatoire of Music & Dance, and an Artist Diploma at the Royal College of Music, the latter thanks to a full Ibercaja/Mackerras Scholarship. In February 2013 he performed with the Royal Philharmonic Orchestra in a production of Bizet's Carmen at The Royal Albert Hall.
Romano Viazzani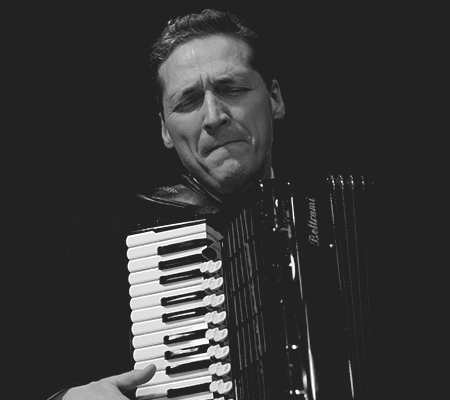 The solo career of British-born Romano Viazzani has included many concerts at festivals, concert halls and accordion clubs all over the UK from the National Portrait Gallery to Aberdeen Arts Centre as well as in Europe. In 2001 he composed and performed his Concerto for Accordion and Orchestra at Wembley Conference Centre with the BBC Concert Orchestra which was broadcast on BBC Radio 3. Between 2002 and 2007 he was part of the hugely successful Gilad Atzmon and the Orient House Ensemble appearing at venues such as Leipzig Opera House, Hamburg Opera House, Barbican Hall (London), the Queen Elizabeth Hall (London) as well as on TV and Radio broadcasts in the UK, Germany, Switzer- land, Ireland, Greece and Romania. In the Classical world he has worked with The Royal Liverpool Philharmonic Orchestra as well as their Chamber Ensemble 10-10 and in the Rock and Pop world has worked with Phil Manzanera (Roxy Music) and Grace Jones. He currently performs regularly with cabaret projects led by English vocalist Joanna Strand and by Anglo-French vocalist Bethany Jameson, as well as with singer Gabrielle Ducomble, and with David Vaughan. He has also recently created the Romano Viazzani Ensemble performing work from tango composers such as Piazzolla as well as other new music.
About The Ensemble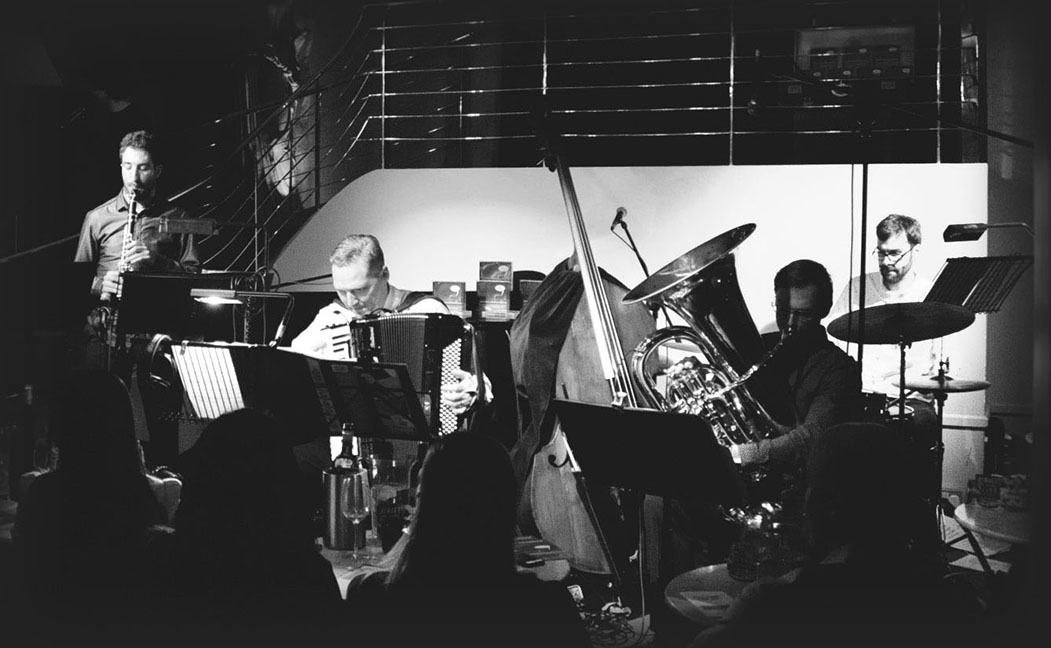 In Depth And Breadth
As preparations were made for the recording of a first album, it soon became apparent that the songs deserved a bigger sound to that provided by the Trio. It was time for the touch of a broader brush at the bass end as well as more rhythmic drive and sonic detail up above; but how that would be achieved was far from clear, however. I remember at the time doing endless experiments in my computer with both obvious and less obvious choices of instrument – drums and bass, yes, but also various assortments of strings, tuned percussion, celeste, tuba, timpani, dulcimer, even a charango – ambitious perhaps, but the experimentation allowed me to hone the character of my songs down to one principal setting, that of the current 'Ensemble': voice, piano/guitar, accordion, clarinet, double bass/tuba and drums.
A Tuba-playing Bassist
As much as I tried, certain songs just didn't want double bass, and neither did they want a conventional approach to drums either. When I started to realize that using a Tuba made sense instead it was quite a revelation – but who could possibly do both? Thankfully, after finding myself sitting next to a tuba-player at a memorial event, I was given the name of Tom Hewins, one of only a handful of professional musicians in London who specialize in both instruments. More importantly, he was up for it, and is now irreplaceable in the Ensemble format.
The Right Drummer
As many a famous band has found out, there are drummers, and then there's the right drummer. Jason Reeve, in reality, was a bit of a snatch. I had the pleasure of playing beside him when guesting for accordionist, pianist and composer Maurizio Minardi who subsequently allowed me to approach his stalwart drummer with an offer I was sure he would refuse – thankfully, he did not! The unusually diverse approach he had to adopt to make sense of a number of my songs was just up his street, and the addition of car horns, whistles, orchestral cymbals and bongo playing on his snare haven't perturbed him one iota!
Tom Hewins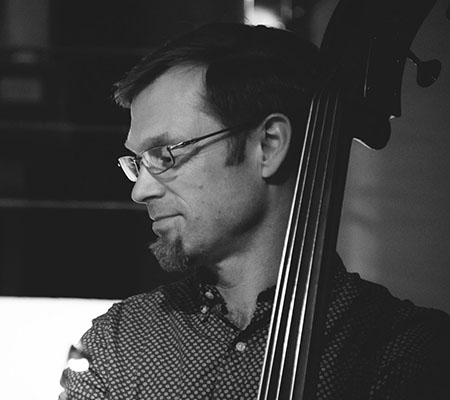 Multi-instrumentalist, teacher and dedicated triathlete, Tom Hewins has proved indispensible in numerous high-level musical projects. He is an Associate of the Guildhall School of Music. He has an Advanced Diploma from the School in Performance and Communication Skills and was winner of the Guildhall Brass Prize in 1994. He plays tuba, double bass and bass guitar and teaches at both primary and secondary level. He graduated from the Guildhall School of Music where he studied classical tuba and jazz double bass, then as a postgraduate went on to study composition, improvisation, music theatre and workshop skills on the Performance and Communications Skills course. This wide field of study has led to a diverse career that has included the Cape Philharmonic Orchestra, RPO, Cyprus State Orchestra, 'Chicago' the musical, Pasadena Rooftop Orchestra, John Bennett Big Band, and Bollywood Brass Band.
Jason Reeve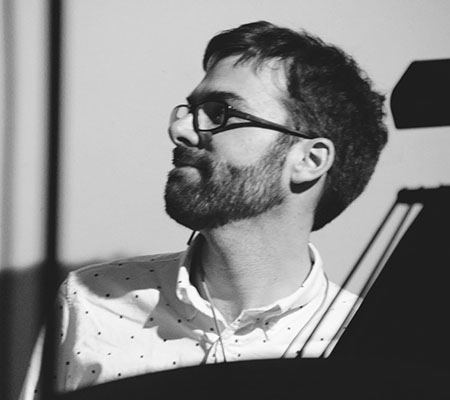 A Graduate of The Guildhall School of Music and a student of renowned drum tutor Bob Armstrong, Jason Reeve is a highly sought after drummer with a wide range of experience performing and recording Jazz, Pop, Rock, Latin, Rock, Country, Funk and Drum and Bass. As well as playing drums he is also happy to provide backing vocals, tuned percussion and keys, but not all at the same time! He been lucky enough to record and perform with some great jazz artists including Nathanial Facey, John Etheridge, Liane Carroll, Nigel Price, Ann Hampton Callaway, Dave Green, Jay Phelps, Theo Jackson, Quentin Collins, Brandon Allen and Soweto Kinch. He has performed in New York, across Europe and at major Festivals in the UK. Some venues he has had the pleasure of playing at include The Barbican Centre, Ronnie Scott's, 54 Below (New York), The Jazz Cafe, The Royal Festival Hall, Scala, The Prince Wales Theatre, Pizza Express Jazz Club in Dean Street, Koko. In addition to performing, Jason is a respected educator of Percussion both privately and for award winning independent schools.